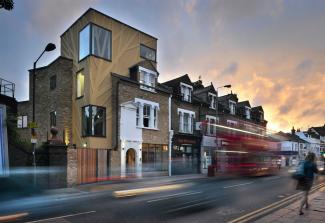 H.A. Marks Ltd was employed as Principal Contractor to deliver this project, a key and vital element of which was liaison with Network Rail.
The South West Main Line (SWML) from Waterloo through Earlsfield to Woking and beyond is one of the busiest railway lines in the country.
It consists of 4 tracks all the way from Woking to Waterloo, with services from Earlsfield on the two slow lines.
The project involved the demolition of the old theatre and a complex system of temporary works, demolition, piling, basement dig, retaining structures to rail embankment, steel frame superstructure, envelope works and full fit out followed to form a new Theatre, the first of its type in the U.K.
HAML diligently acted to complete both Pre and Post Planning activities on behalf of our client these included, but not limited to;
Full topographical Survey / Line and Level of NR assets.
Soil structure analysis including Ground heave / settlement of NR assets.
Preparation and submission of forms F001 and F002.
Appointments of CRE and CEM`s.
Liaison with NR – pre, during and post contract.
Establish a monitoring regime along with trigger levels with respect to movement and vibration. This was then incorporated to an EAP and agreed with NR.
Monitoring of NR assets including Embankment and track.
Prepare and submission of F003 for all elements of works associated with the construction.
Carry out inspections of NR assets and infrastructure during critical construction activities (e.g. Demolition, excavation piling, cranage)
Challenges
One of the main challenges in this project was balancing between managing our Clients (who was not fully converse with the intricacies and complexities often associated with Network Rail works) expectations while liaising with and ensuring all of NR requirements were executed diligently and correctly.
Preparation of project documents and submissions as well as NR liaison was managed effectively by HAML rail staff. Successful liaising was a key factor for the projects progression, all of which had to be steadily progressed to ensure our clients funding milestones were achieved.