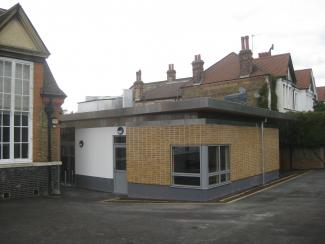 In January 2011, H.A. Marks Construction was appointed by Lambeth Education Authority to Design & Build a new School Extension at Sunnyhill Primary. The conceptual design was developed by Shepherd Epstien & Lambeth Education and the full Design & Build Project was awarded to H.A Marks on Best Innovation, Value & Technical Ability.
The construction program was very tight with critical milestones and the most innovative solution was to design and build the project using off-site Volumetric/Modular Units. This meant that we commenced Groundworks whilst simultaneously working off-site at the factory to construct the bespoke, individual Steel Framed Modular/Volumetric Units. Fantastic program savings were achieved, estimated at 12 weeks, meant that the project was much faster than traditional construction approach. This minimised the disruption to the school.
Another advantage was that the carbon footprint of the build process was substantially reduced as deliveries to site were drastically reduced. Fewer deliveries also meant less disruption, noise and traffic issues as the Volumetric Units were delivered and installed over the School Half Term Holiday.
The project presented a unique challenge in the Sub-Structure due to a high water table. Our Structural Engineers Checkel Dalton designed the CFA piled substructure which was installed by Van Elle.
Sustainable Innovative Underfloor Heating powered by an Air Source Heat Pump was designed and installed. Passiv Vents were also designed and installed. Concrete, Screeded Composite floors were installed providing a robust and substantial floor mass. Exceptional through the wall U-Values were achieved with Insulated Render System and the front elevation nearing the original brick built school was clad in individual Brick Slips to compliment the visual effect.
A highly collaborative approach with the School and Lambeth Council resulted in a very successful project, ahead of time and on-budget.