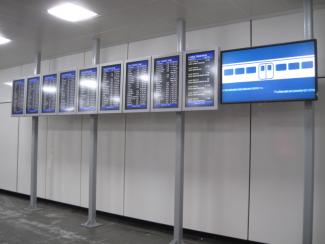 Vitreous Enamel cladding can be specified to provide impact resistance and protection in addition to having aesthetic benefits.
Applications include areas around lift lobbies and other high user traffic environments, for example along walkways in transportation hubs, and where acoustic performance is not required. H.A. Marks are a highly experienced rail and underground contractor.
We design, commission and install Vitreous Enamel Cladding. The enamelled surface finish ensures a vibrant, low maintenance product with a high quality finish.
Design
H.A. Marks have a dedicated in-house specialist Facades and Cladding department that carry out work through out the UK. Having our own specialist team enables us to manage each project effectively and offer a fast and ef cient turnaround.
Fabrication
Our product is manufactured locally which allows us to have valuable and consistent input during the manufacturing process.
Installation
H.A. Marks have extensive experience on the Underground and Rail Network, having carried out many refurbishment programs at stations including:
Embankment
Brixton
Harrow on the Hill
South Kensington
Victoria
Farringdon
Paddington
Our employees are directly, trained, experienced installers who all hold current PASMA, PTS, Lucas and CSCS certification.
H.A. Marks are approved contractors for:
Health & Safety
H.A. Marks are an experienced Underground & Rail Contractor accredited to LinkUp, Chase and Constructionline. We operate a Quensh compliant Health and Safety Management System that ensures we apply appropriate Health and Safety measures relevant to works we engage in.
We pride ourselves on our safety record and follow strict guidelines of our safety marks. We invest in ongoing health and safety training to provide on-going health and safety advice as well as on-site support.
We aim to be personable and knowledgeable, backed by the highest professional and safety training standards.
H.A. Marks are fully cognisant of their full responsibility in safety measures at all times.
H.A Marks have over 10 years of experience working under QUENSH conditions
Our Staff and Safety Manager are experienced in LUL projects and are fully compliant to LUL's safety requirements
All suppliers, materials and processes are QUENSH compliant
PAT Testing is undertaken on all electrical equipment
The Health & Safety folder is available on site throughout the entirety of project
Training and competencies of both staff and sub contractors are monitored regularly and records are kept on the H.A Marks server
Class 'O', Flame Retardant Materials
It is our policy to carry out pre and post briefings on our sites
How we operate
H.A. Marks are a  exible organisation that adopts an open approach with all of our clients. We recognise the importance of collaborative relationships in the successful delivery of all projects. We strive to deliver project requirements in the most ef cient way possible and always ensure we work together to achieve the best results for all while maintaining the highest possible standards.
We pride ourselves in our excellent relationships with our clients. Our extensive knowledge and experience of Vitreous Enamel Cladding, particularly in the rail industry, enables us to offer innovative solutions to our clients.
Our Quality and Environmental Management systems are certi ed to ISO 9001 which ensures optimum procedures across every department. Our "Partnerships" with our customers are based on joint strategies and the sharing of knowledge to continually improve performance.
Recently, H.A. Marks were successful with a tender for the Ceilings and Vitreous Enamel Station Stabilisation Works for LUL. We are among two contractors (plus 2 reserves) to be successful for this framework. The works will be delivered using a new delivery and procurement model called STAKE. Under this strategy, allocated trade contractors will deliver work streams to individual trades across groups of London Underground stations, which will provide contractors with a reasonably predictable and ongoing work-stream of delivery, subject to good ongoing performance.