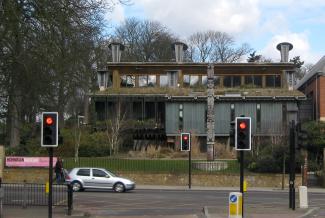 Well insulated, air tight timber framed two-bedroom house on 6.6m wide site with access restricted by the eponymous tree. The design strategy aimed to achieve a 'zero carbon' performance and the house was built to stringent standards.
This included high performance windows and whole house mechanical ventilation. The energy systems include rain water recycling, photo-voltaic generation of electricity and a system of hot water generation that combines a solar thermal panel with a vertical ground loop heat pump. Hot water is for both domestic use and underfloor heating.
As the house is also a research project, extensive monitoring equipment was built in. The foundations were piled and the timber frame sits on a concrete slab that incorporates a pond in the rear garden and a retaining wall. The frame is clad with both fire treated FSC cedar and the Weber rendering system (for which we are registered installers).
Roofing materials include cedar shingles, recycled rubber slates and stainless steel edge trim. As a result of site restrictions, the roof trusses and staircases were constructed on site. The latter wind around two tree trunks which act as newels.