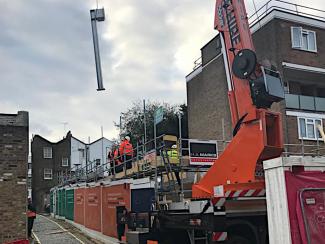 In 2018 planning permission for reworked proposals to redevelop a run of Westminster City Council owned garages into three new homes were approved.
However issues that occurred prior to the appointment of H A Marks, who took over the works, presented significant design and logistical challenges which included having to make good works previously done.
Following much effort and meticulous planning we are so pleased to confirm the commencement of the timber frame at Ordnance Mews. This marks a milestone for further Social Housing provision in Westminster.