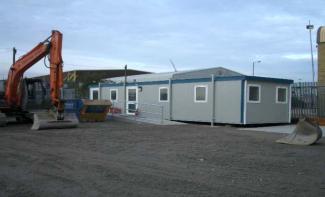 The works consisted of clearing site of fly tipped rubbish and debris. To carry out soil investigations and to scan the area and plot service positions underground.
To dig load and cart approx. 180m3 of contaminated spoil off the top of the oversite. (Licensed Haulage and Waste handling in accordance with the Waste Management Regulations act 2007 – Production of Waste Management plans etc.). To supply and lay new 400mm over layer of selected MOT Fill with a Geo-Textile Reinforcing Layer.
Construction of Soakaways and new reinforced concrete bases for Offices, Welfare facilities, Tanker, Stillages. Design and Installation of Roadway lighting. Thermoplastic lining works and signage. Tarmacadum and surfacing works. Kerbing and paving works.
Combined Value: £300,000.00