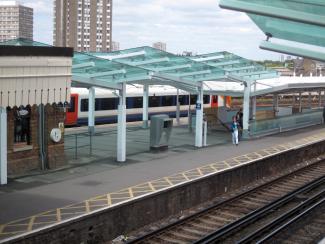 Clapham Junction Train Station is one of the busiest Rail Stations in Europe, handling up to 50,000 passengers per day. The project was located on Platforms 9, 10, 11 & 12 and consisted of the design and Construction of new glass and steel canopies with associated civil works.
The work was carefully programmed, planned and phased around the stations operations, with much of the works done in possessions during engineering hours.
The old canopies were carefully dismantled to make way for the new structures. The existing sub terrainial services had to be carefully mapped and located with scanning surveys/proving excavations ahead of the sub-structure phase. The foundations were designed as augered mini-piles with capping pads/beams.
Logistics were a particular challenge. We worked with the client to arrange for all equipment, plant and materials to be brought in specially chartered freight trains during engineering hours. Waste and spoil items were taken from the station on the same trains.
Phased refurbishment was carried out in the platform areas, staircases and commercial units on platforms 9, 10, 11 and 12. The works were phased in sections with careful logistics and passenger safety being our top priority.